October is National Apple Month in the US…it is also National Pumpkin Month which I have promoted more than enough as wonderful as the pumpkin is l think it is time I gave the "Apple" the spotlight…
Did you know that worldwide 7,500 different varieties of apples are grown? My favourite apples are Bramley's, Cox's and Braeburn apples which ones are your favourite apples ???
As the saying goes an " Apple a day keeps the doctor away" and rightly so as that little round ball of goodness is 2/3 fibre it has lots of anti-oxidants especially in the peel so do not peel it…please. They are also fat-free, sodium-free and cholesterol-free and come in all shades of red, green and yellow so many to choose from…Which apple or apples are your favourite????
Apples have been around since at least 6500 BC and used to be called winter bananas or melt in your mouth… Mmmmm, don't really get that connection…
Who loved doing apple bobbing at Halloween?? Or that party game where you were blindfolded and had your hands behind your back and had to take a bite of the apple sometimes it was a doughnut…But good fun…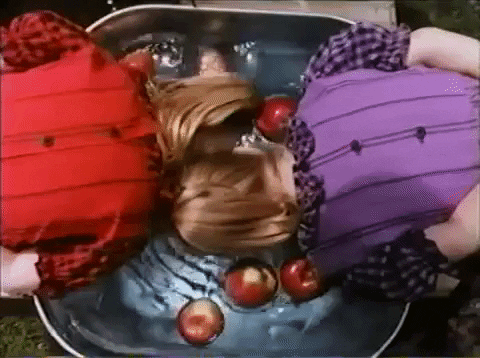 Still mainly picked by hand apple growing is called pomology and the apple is a member of the rose family.
The cook in me can tell you that two pounds of apples will make a 9" pie…that apples ripen 6-10 times faster kept at room temperature than if you refrigerate them.
Apples go well with many dishes and recipes I mean you cannot have roast pork without applesauce or coleslaw without apple my mum used to make wonderful pancakes with slices of apple in the batter and her apple pie was also the best ever… I am still trying to bake a pie as good as my mum's.
Here are some of my favourite recipes using apples…Starting with coleslaw…
There are so many permutations of this dish and all wonderful in their own way…My version, 5 ingredients plus mayo and you have a beautiful slaw to eat with anything…
I add no sugar as carrots and apples have their own natural sweetness.
So….Lets Cook!
 Shred half a white cabbage or red or half and half.
Peel and quarter at least one apple and then slice thinly.
Grate or dice a carrot.
Put in a bowl, add some mayo,  pinch of salt, freshly ground black pepper and a good squeeze of fresh lemon /lime juice.
Keep in the fridge until you are ready to serve. It will keep in the fridge may be covered until the next day but I just make it as I want it so easy to make enough for 1 or 10.
Enjoy!
Applesauce is one of the easiest sauces to make and can be used in so many different ways.
To make applesauce just peel your apples add a tiny bit of water and depending on which apples you are using you can add a little sugar…I don't…Sometimes I add some cloves, a cinnamon stick it depends…Cook until softened and then you can puree if you like a smooth sauce or just roughly mash it or leave it as it is…
Applesauce pureed is a lovely food for babies when they first start eating solids maybe mix a little with rice or porridge for them.
*You can use 1/4 cup of unsweetened applesauce in place of one egg in most baking recipes. Some say to mix it with 1/2 teaspoon of baking powder. If all you have is sweetened applesauce, then simply reduce the amount of sugar in the recipe. Applesauce is also a popular healthy replacement for oil in many baked goods.
N.B I haven't used applesauce as an egg substitute myself…Have you????
I love baked apples which is something my mum used to make filled with sultanas and baked in the oven she also used to cover the apple in suet pasty and make a suet apple pudding… All served with a bowl full of custard…I have happy childhood memories of these and although I don't make the suet pudding we do love a baked apple like the one below and equally as lovely without the custard…
Ingredients:
• 4 large apples cored – any type except Granny smith which do not bake well
• 4 teaspoons unsalted butter cut in tiny cubes
• 1/4 cup walnuts chopped
• 2 teaspoons cinnamon
• 1 teaspoon ground ginger or you could use fresh ginger very finely chopped or grated.
• ½ teaspoon ground nutmeg
• brown sugar to taste
• ½ cup apple cider ( I used ACV as I couldn't get apple cider)
Let's Cook!
Place your cored apples in an ovenproof dish. Mix the butter, walnuts and spices together and add to the centre of the apples.
Pour your apple cider into the dish to stop the apples from catching the bottom of the dish.
Bake on 350F/177C or gas mark 4 for 45 to 60 minutes depending on your apples…Baste the apples every 15 minutes.
To Serve: These can be served with custard, ice cream or a dairy-free coconut cream whip.
This was a lovely dessert and I think using Apple cider vinegar instead of cider took away the sweetness of the apple it was really nice.
What is your favourite childhood memories of eating apples????
To serve: Add a squirt of cream or some lovely clotted cream if you can get it, custard, my dairy-free cream as above or a scoop of lovely Cornish ice cream.
Watching the calories then top the apple with some meringue ..very nice or add a crumble mix my recipe for crumble made separately is very nice and you could add as little as you like just a spoonful layered into a glass gives that little bit of added crunch.
What else are apples used for ?? Apple juice, Apple cider vinegar Cider, Apple vinegar all of which have many health benefits and uses… Just be careful if you buy apple juice that it is not loaded with loads of sugar and other nasties which those sneaky drinks companies put in everything…Don't get me started…lol and if it's cider( scrumpy) moderation is the name…
I hope you have enjoyed this post on the humble little apple…x
Stay safe, have fun and laugh a lot as you know what I am going to say it is Free and proven to be good for your health…..
Thank you once again for reading this post  …Happy Baking! xx